Corpun file 24090 at www.corpun.com
Beaumont Enterprise, Texas, 14 August 2012
LC-M's paddling rule goes unchanged
By Julie Chan
Beaumont Enterprise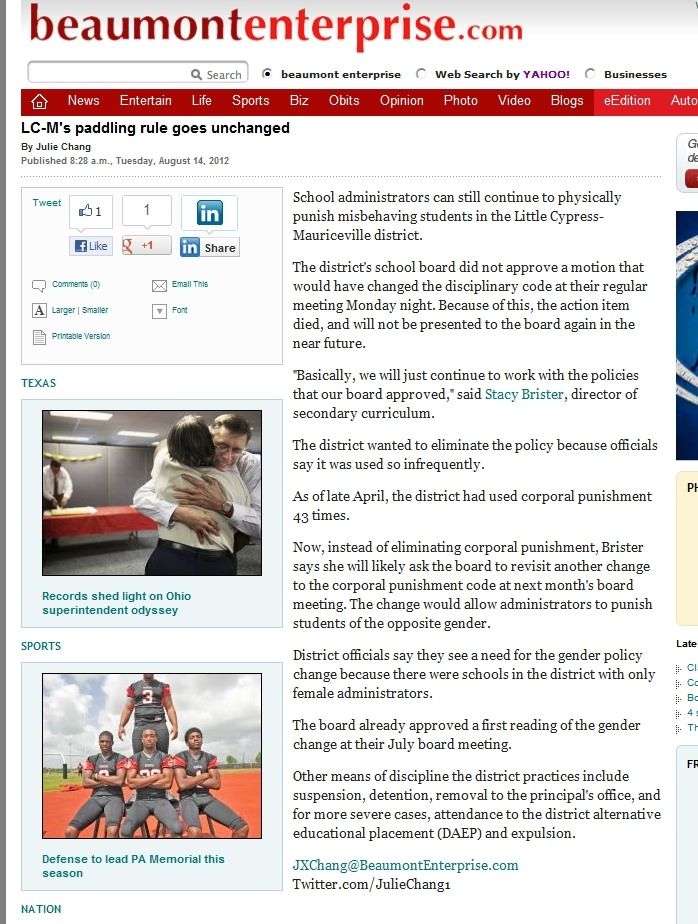 Click to enlarge
School administrators can still continue to physically punish misbehaving students in the Little Cypress-Mauriceville district.
The district's school board did not approve a motion that would have changed the disciplinary code at their regular meeting Monday night. Because of this, the action item died, and will not be presented to the board again in the near future.
"Basically, we will just continue to work with the policies that our board approved," said Stacy Brister, director of secondary curriculum.
The district wanted to eliminate the policy because officials say it was used so infrequently.
As of late April, the district had used corporal punishment 43 times.
Now, instead of eliminating corporal punishment, Brister says she will likely ask the board to revisit another change to the corporal punishment code at next month's board meeting. The change would allow administrators to punish students of the opposite gender.
District officials say they see a need for the gender policy change because there were schools in the district with only female administrators.
The board already approved a first reading of the gender change at their July board meeting.
Other means of discipline the district practices include suspension, detention, removal to the principal's office, and for more severe cases, attendance to the district alternative educational placement (DAEP) and expulsion.
Copyright 2012 Beaumont Enterprise. All rights reserved.