The Independent, London, 23 July 2009
Dozens of Maldives women face flogging
By Andrew Buncombe
Asia Correspondent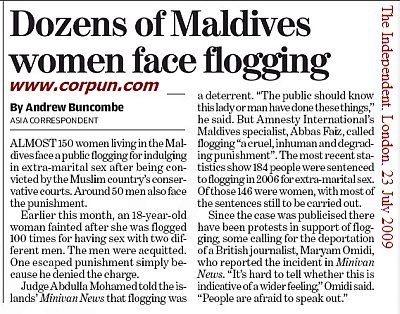 Click to enlarge
Almost 150 women living in the Maldives face a public flogging for indulging in extra-marital sex after being convicted by the Muslim country's conservative courts. Around 50 men also face the punishment.
Earlier this month, an 18-year-old woman fainted after she was flogged 100 times for having sex with two different men. The men were acquitted. One escaped punishment simply because he denied the charge.
Judge Abdulla Mohamed, told the islands' Minivan News that flogging was a deterrent. "The public should know this lady or man have done these things," he said. But Amnesty International's Maldives specialist, Abbas Faiz, called flogging "a cruel, inhuman and degrading punishment." The most recent statistics show that 184 people were sentenced to flogging in 2006 for extra-marital sex. Of those 146 were women, with most of the sentences still to be carried out.
Since the case was publicised there have been protests in support of flogging, some calling for the deportation of a British journalist, Maryam Omidi, who reported the incident in Minivan News. "It's hard to tell whether this is indicative of a wider feeling," Omidi said. "People are afraid to speak out."